Our Quality Standards
At Gem Shopping Network, we pride ourselves on our high standards, examining and evaluating the pieces and gems our vendors can show to our customers. Our standards are exceptional and begin with sharing strict and comprehensive guidelines; they continue with a quality inspection of each piece before it leaves our building. That is our promise and commitment to you.
While other companies may receive 500 or more duplicate pieces of a single style and spot check a small percentage of them before sending them out, GSN does not work like that. We sell one-of-a-kind pieces, so every single piece is carefully inspected in our Quality Control Department before leaving our building, assuring that what we ship you is exactly what we sold you.
All vendors must accept and sign Gem Shopping Network's quality standards before we make any of their products available to you. This helps us safeguard your customer satisfaction and assures that you will see some of the finest jewelry in the world on our broadcasts.
Unlike that of other companies, the Quality Control Department at GSN inspects each item before sale to ensure there are no duplicates. We sell truly one-of-a-kind pieces, and our meticulous inspections ensure that what we ship is exactly what we sold on our live show.
"Our quality standards are an important part of who we are, and they make us different from everybody else. There is not a piece that leaves here without being inspected."
Mike Burnette, Director of Gemology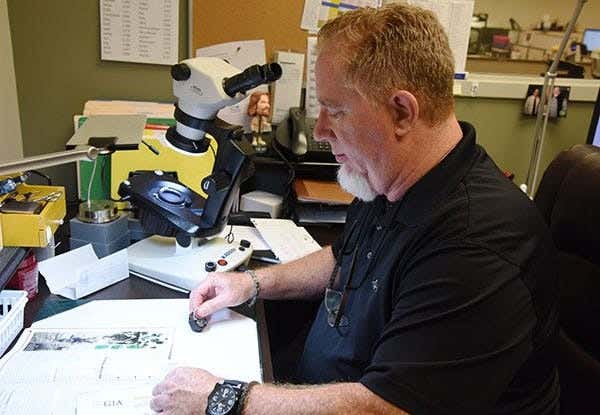 Here are a few of the guidelines that our vendors must meet:
Precious Metals. GSN only accepts solid gold jewelry at a weight of 14 karats or more. GSN will only accept gold at a weight less than 14 karats if and only if it is the original metal on estate jewelry.
Lab Reports. All stones must undergo a lab test to ascertain the stone's country of origin and true weight. The reports ensure that our customers receive rare gemstone pieces with gemological reports from reputable labs.
Treatments. We do not sell gemstones with treatments that are not accepted by leading industry professional organizations such as the AGTA. Here are some examples of treatments we will not accept:
Lead glass–filled gemstones to hide imperfections
Gemstones that have been dyed to enhance color (the only exception is chalcedony)
Reconstituted stones or composite material such as is frequently used in turquoise
Corundum and sapphire that are diffusion treated
Synthetic or man-made gemstones (the only exception are rare estate pieces that might have synthetic stones "of the period" and are small accent stones only)
Diamonds that are clarity enhanced
Gemstones that have been surface coated
All pearls must be of natural color; no dyed colors
We do not sell synthetic diamonds
No smoke- or sugar-treated opals
Gemstone triplets; we only sell doublets if both pieces are of natural materials
On occasion, the Network will allow designers who create jewelry in vermeil (gold over silver) or in rhodium-plated silver to present those pieces. Native American pieces created in silver are also occasionally offered on our shows. When we allow exceptions, we make sure the pieces are clearly stated to be silver with other metals. Additionally, estate pieces where the stones are made of glass are allowed on GSN estate shows provided that the seller clearly states the contents of each stone. If you are wondering whether your piece meets this exception, please contact Customer Service
We honor the relationships we have built with our customers after more than 24 years of service. We'll continue to educate our graduate gemologists with the latest information and best practices in the jewelry industry so they can inform our audience about the very finest authentic jewelry and gemstones.
Do you have other questions about Gem Shopping Network? Visit our Frequently Asked Questions page.